Sunday, February 17, 2019 Next Date
10:30 am - 1:00 pm
both campuses
This event has already occurred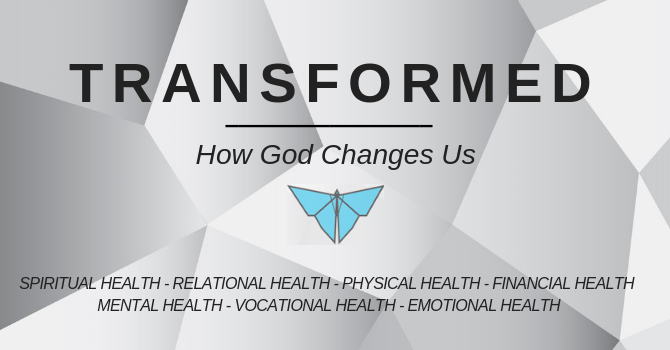 50 Days of Transformation is a study of the transforming power of Jesus Christ in seven key areas of our lives: spiritual health, physical health, mental health, emotional health, relational health, financial health, and vocational health. Transformation comes when we will allow God's Word to renew our minds and change the way we think about everything. When we learn to think differently, we will begin to live differently, and as we learn to think God's way, we will begin to live God's way.
Messages include:
Setting Personal Goals by Faith
Transformed in My Spiritual Health -- How to Get Closer to God
Transformed in My Physical Health -- From Stressed to Blessed
Transformed in My Mental Health -- Change Your Life by Changing Your Mind
Transformed in My Emotional Health -- How to Deal with How You Feel
Transformed in My Relational Health -- Facing the Fears that Ruin Relationships
Transformed in My Financial Health -- Transforming How I See and Use Money
Transformed in My Vocational Health -- Facing Giants in Life and Work (Your Career)
I believe both God and you want this transformation in your life! That is why I am very excited to invite you to 50 Days of Transformation, starting in January 2019 at mosaicHouse Church. To maximize the impact of your transformation,
we are inviting you to journey us in three ways:
Daily devotional and inspirational Booklet
Sunday teaching at mosaicHouse Church
Weekly houseChurches at various locations
Sign up by using this link
"SoulFood"
to start recieving our daily devotional email.
Reserve your spot in a houseChurch and receive a daily inspirational booklet, by simply contacting Pastor Christopher
[email protected]
and say, "I want to come for a test drive!" You want to do this sooner than later because space is limited and we want to reserve your book.
| | | |
| --- | --- | --- |
| DATE | THEME | READ IN BOOK |
| Jan 6 | Setting Goals for Transformation | |
| Jan 6-12 | houseChurch: Use Monday Soul Food content | |
| Jan 6-12 | Soul Food Setting goals for transformation | |
| Jan 13 | SESSION 1: Transformed in My Spiritual Health | page 2-4 |
| Jan 13-19 | houseChurch: Watch Video 1 | page 5-13 |
| Jan 13-19 | Daily Devotions Day 1 - Day 7 | page 14-29 |
| Jan 20 | SESSION 2: Transformed in My Physical Health | page 32-34 |
| Jan 20-26 | houseChurch Watch Video 2 | page 35-43 |
| Jan 20-26 | Daily Devotions Day 8 - Day 14 | page 44-59 |
| Jan 27 | SESSION 3: Transformed in My Mental Health | page 62-64 |
| Jan 27-Feb2 | houseChurch Watch Video 3 | page 65-73 |
| Jan 27-Feb2 | Daily Devotions Day 15 - Day 21 | page 74-89 |
| Feb 3 | SESSION 4: Transformed in My Emotional Health | page 92-94 |
| Feb 3-9 | houseChurch Watch Video 4 | page 95-103 |
| Feb 3-9 | Daily Devotions Day 22 - Day 28 | page 104-119 |
| Feb 10 | SESSION 5: Transformed in My Relational Health | page 122-124 |
| Feb 10-16 | houseChurch Watch Video 5 | page 125-135 |
| Feb 10-16 | Daily Devotions Day 29 - Day 35 | page 135-151 |
| Feb 17 | SESSION 6: Transformed in My Financial Health | page 154 -156 |
| Feb 17-23 | houseChurch Watch Video 6 | page 157-163 |
| Feb 17-23 | Daily Devotions Day 36 - Day 42 | page 164-179 |
| Feb 24 | SESSION 7: Transformed in My Vocational Health | page 182-184 |
| Feb 24-Mar 2 | houseChurch Watch Video 7 | page 185-193 |
| Feb 24-Mar 2 | Daily Devotions Day 43 - Day 49 | page 194-208 |